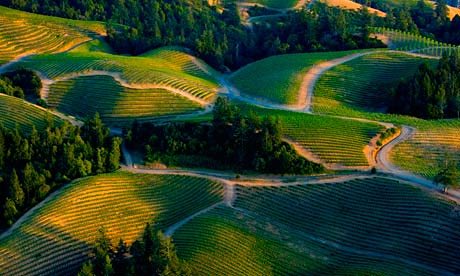 Thank you, readers, for wanting to know more about SoCo Scoots ventures into the hills around Sonoma Valley. We do have a good time and southern California is almost always willing to accommodate us with beautiful, spring-like weather. With that being said, at present, we look back on recent visits into wine country via scooter and moped from the inside of dry buildings as the rain seems to come down non-stop lately.
Not many are complaining as California has been in a drought for years. Recently, however, I've had my weekends relegated to helping a friend who owns an overhead crane service and who has taken on jobs dealing with wreckage pulled from mudslides. A dry afternoon has been promised by the area weather guy and it's time to take the scooter out to sites around the community that have been affected by the vast amount of rainfall, and see if I can help. We had a fabulous time on our last sojourn into the Valley, where we visited 4 wineries. I wrote about our club trip when we spent a couple of hours at Anaba Vineyard and Winery and then later at Chateau St. Jean. On weekends, we like to get out of the city and take a trip a couple hours into the valley. It's like taking a mental shower as the scenery changes. It is amazing as we go further into the placid landscapes of Sonoma.
So, what is the best scooter for a long-distance drive?
A long-distance scoot must be comfortable. Since most of us can put about 2 hours in without our backsides becoming numb and non-relatable, a couple of hours is about max. It must have storage for small necessities like candy bars, and wet wipes, a few nondescript tools – you know the essentials. It also must be highway safe. Circumstances don't always allow for back road access and in the event a short stint on the freeway is called for the driver has to be ready.
Kymco People S Series
SoCo Scooters Club organizer, Darren loves his Kymco S200 and recommends it to anyone who is looking for a reliable, dependable good looking scooter. Part of the Peoples S scooter series, his black Kymco fits the bill perfectly for longer road trips. He says its sexy curved lines make it less wind resistant and its gas mileage is about 75 miles to the gallon. Sporting a refined look with 16" wheels which offer terrific stability on rough or uneven roads makes it perfect for touring wine country. For non-distracting driving, Darren likes the look of the dash with excellent, easy to read gauges.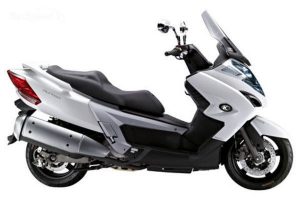 He likes the small touches like the power outlet under the seat which he uses to charge his phone and other gadgets he takes on a ride. The digital clock takes up very little space and he has come to depend on it more than what he thought when he first purchased the scooter. The gauges boast a simple to read trip odometer. Keeping track of fuel mileage is as easy as a quick glance.
There are dozens of makes and models to choose from and the People S Kymco series (50, 125, 200 and 250) are top of the line – and did I mention it is good looking?
On occasion, we'll review different scooters, but leave a comment below and tell us about your preferred long distance bike. Tell us why and maybe even include a couple of tips to long distance scootering and they could show up in this blog post.